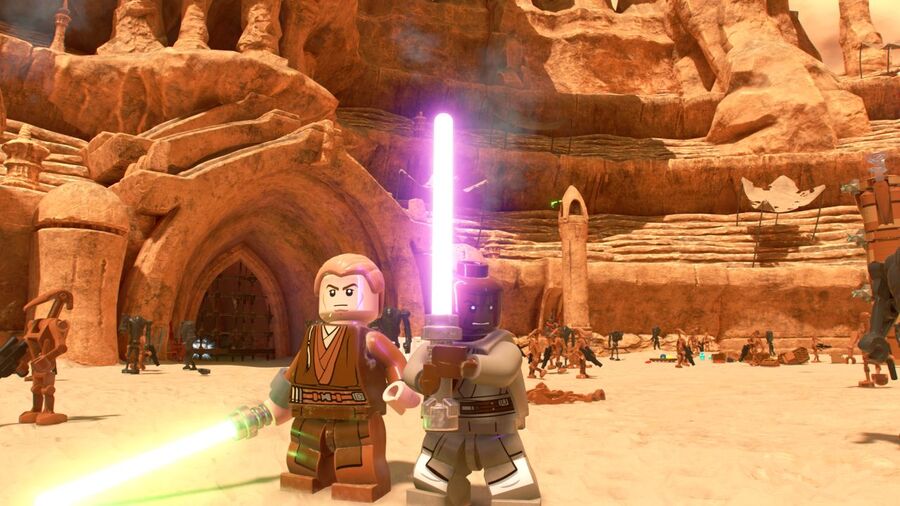 LEGO Star Wars: The Skywalker Saga von TT Games hat gerade sein erstes Update für Switch erhalten. In dem mittlerweile größten LEGO-Spiel aller Zeiten wurde The Skywalker Saga auf Version 1.0.4 aktualisiert, um dem Spiel ein wenig mehr Kraft zu verleihen. Oder machen Sie es einfach ein bisschen stabiler, wirklich.
Kleine Korrekturen sind immer willkommen, und es gibt ein paar Episoden-bezogene Probleme, die ein paar eifrige Jedi aus Stein ins Stolpern gebracht haben könnten. Hier sind die Patchnotes direkt von Warner Bros.' LEGO-Spiele-Support:
Versionshinweise – Mai 2022 (Version 1.0.4)
Zahlreiche Korrekturen zu Stabilitäts-, Qualitäts-, Fortschritts- und Leistungsproblemen im gesamten Titel, einschließlich Korrekturen für:
– Problem in Episode 7, bei dem Maz in bestimmten Situationen nicht auf Takodana anwesend war, um die Story-Mission "Friends of the Resistance" fortzusetzen.
– Problem in Episode 3, bei dem in bestimmten Situationen der Level-Trigger für "The High Ground" nicht angezeigt werden konnte.
– Problem in der Freeplay-Mission "Green Harvest", bei dem die Kamera unter bestimmten Kriterien auf unbestimmte Zeit auf Tatooine hängen blieb.
4 neue Großkampfschiff-Begegnungen im Lokalen Raum implementiert und 34 zusätzliche Kyber-Steine ​​zum Sammeln hinzugefügt:

– Fulminatrix
– Haus eins
– Unsichtbare Hand
– Jäger
Oh, ein paar kleine neue Dinge zu tun? Vielen Dank dafür! Wir werden ein bisschen mehr in den lokalen Raum gehen, um diese zusätzlichen Begegnungen zu finden und dann diese zusätzlichen Leckereien zu bekommen.
Hilft Ihnen dieses Update überhaupt? Und werden Sie versuchen, diese neuen Begegnungen zu jagen? Lass es uns in den Kommentaren wissen!